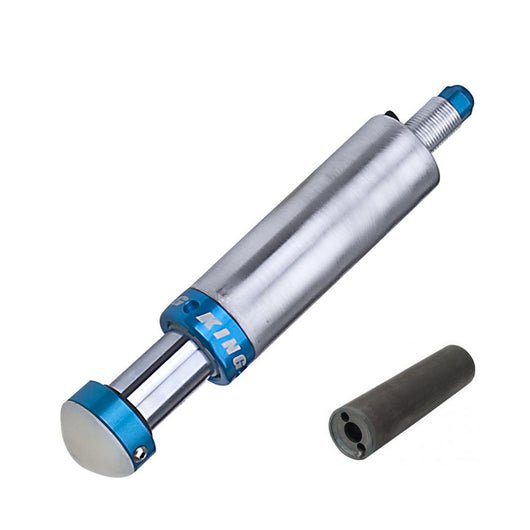 King 2.0 x 2" Hydraulic Bump Stop
Part #:
k2x2bs
Regular price $349.99 Sale
* Price is for ONE Bump Stop *
King bump stops are made from the same quality materials and precision machined components that are used in our performance racing shocks. The precision fit of the components, our unique piston design, the proven valving configuration and our advanced seal technology combine to create a durable, superior performing bump stop that generates maximum damping forces.
King shocks' bump stop mounting sleeves are made from .093 wall Chromoly tubing. The sleeves are machined for clearance from the top (eventually closed) end before the laser cut tops are tig welded on leaving the first 1.25" at the open end at a smaller size to provide a snug fit on the bump stop body. The locating pin registers into the top plate then the bump stop's threaded boss is bolted securely to the mount. King's mounting sleeve design holds the bump stop around the entire outside diameter without crushing it like pinch bolt designs. The sleeves are delivered raw so they can be welded directly onto your chassis.
Comes with weld can