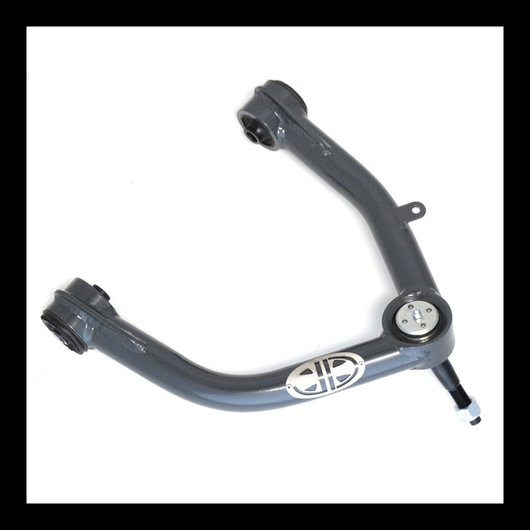 Ford Raptor Upper Control Arm's
Part #:
fr1014uca
Regular price $689.99 Sale
Quantity on hand 1  ship next day
YEAR –  10 to 14 (1st gen)
MAKE – Ford Raptor
LIFT – Up to 2"
WIDER PR SIDE - 0

TIRE SIZE RECOMMENDED – 35"
WHEEL TRAVEL – Stock
UPPER ARMS
Our powdercoated upper arms are made from 1.5: x .120 DOM steel. We decided to go with OEM bushings on the inner pivots because no one does more research and development in the durability of automotive parts than the vehicle manufacturer. These bushings can last up to 200,000 miles, will never squeak, and do not require maintenance. They also have over 200% more contact area where the bushing shoulders meet the frame. The bushings feature side ribs, which is crucial on trucks where the upper arm is used for steering alignment. On the outer end, our arms utilize a rebuildable and greaseable 1-inch uniball that is more durable and offers more angularity than the stock ball joint, meaning it won't bind as the suspension cycles. We had these high-quality joints specially manufactured to match the stock ball joint taper, making our upper arms 100% bolt on with only minor drilling required.
LOWER ARMS - Stock
SPINDLE - Stock
TIRES PUSHED FORWARD - 0"
PARTS INCLUDED
Powder coated upper arms
1" sealed rebuildable and greaseable uni balls
OEM inner bushings
BULLET POINTS

Increases durability
Long lasting OEM inner bushings
1" sealed rebuildable and greaseable uni balls