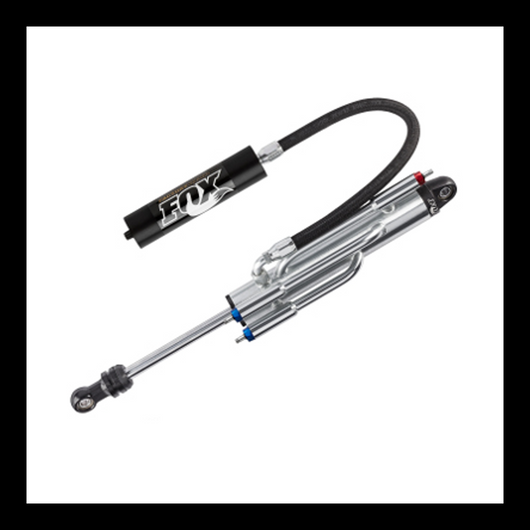 FJ Cruiser 2.25" LT Fox 2.5 3 Tube Bypass, Factory Series, Remote Reservoir, 8" Travel
Part #:
ftt6183tbp
Regular price $1,099.95 Sale
For the ultimate performance, ride quality and suspension tuning we strongly recommend adding a secondary shock to your long travel kit. All of our long travel kits have tabs on the lower arms to accept a secondary shock and all you need to do is add the secondary shock upper mounts.  
While a single coil over works great, adding a second shock takes the suspension to the next level.  Adding a second shock effectively doubles the shock damping and dramatically helps with shock fade during extended off road abuse.  The other huge benefit of the secondary shock is the ability to add bypass tubes for position sensitive tuning.  Being able to control the shocks at different points in the travel really helps to eliminate things like hard bottom outs while still having a comfortable ride.  

For all out, maximum performance we offer the Fox 2.5" 3 tube bypass shocks for your FJ long travel kits.  We worked directly with Fox to optimize the tube layout and valve code specifically for our long travel kits.  The bypass shocks give you the ability to adjust compression and rebound damping independently in different stages of the shock stroke.  Please keep in mind the multi tube bypass shocks have check valves inside the tubes that are noisy.  If you truck is a daily driver then please take the additional noise into consideration before placing your order.
Please note we do our best to stock these shocks however if we are out of stock then the lead times are dependent on Fox which is currently at 30 weeks.