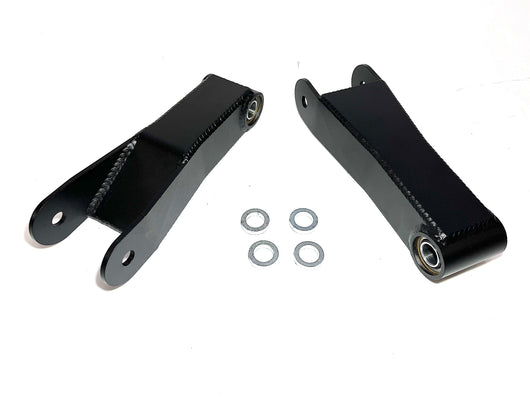 Double Uniball Shackles
Part #:
jdubs-7
Regular price $299.95 Sale
Are you tired of squeaky shackles with urethane bushings that are constantly wearing out? Our shackles eliminate the bushings all together.  We have custom machined barrels that accept two 3/4" uniballs with a crush sleeve in between that the shackle bolt can pivot off of. These shackles have been designed to accept the standard 2.5" leaf spring bushing width that uses a 9/16" bolt and the uniball end pivots around a 3/4" bolt.  

They are fabricated out of laser cut/formed 3/16", have a fully boxed design and are available in 7" and 9" lengths.
All shackles come powder coated in black and include a total of four 3/4" uniballs, four snap rings, two crush sleeves and two 3/4" bolts with nuts and washers.
Price is for a complete set of two shackles.