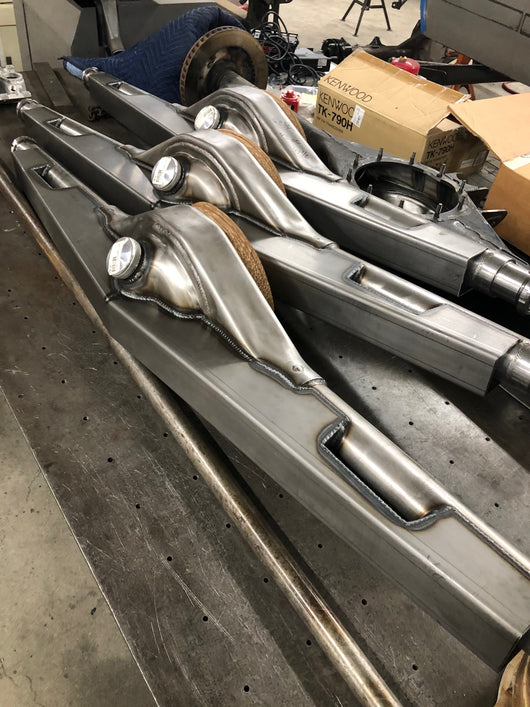 Full Floating Ford 9" Axle
Part #:
swff9l
Regular price $4,999.95 Sale
If you are looking to upgrade the rear axle on your 4x4 or prerunner than look no further! 
We start out using a new, fabricated, full floating housing from Speedway Engineering.  First the center section is formed to accept a Ford 9" third member and then uses 3" x .250" wall cromoly tubes that are welded on inside and out.  Speedway also welds in their 2.5" snout ends to accept their machined aluminum hub bodied.
Our .120" cromoly laser cut and formed truss is then welded on to give the housing superior strength.  We designed the truss to completely wrap the axle tubes which enables it to be a full 3" deep, this isn's simply a "rear truss".  For leaf sprung trucks we notch the truss out to accept the U bolts and spring perches.  When we notch the truss its then plated back in with .120" cromoly to completely seal it up.  We also run the truss all the way out to the caliper mount brackets which greatly strengthens the mounts and ensures the brake pads stay true to the rotors.
All of our housing kits come complete with Speedway 2.5" billet aluminum hubs, billet rotor adapters, 35 spline drive plates, 35 spline axles, billet center caps, all necessary bearings, seals, hardware, 5/8" long wheel studs, lug nuts and spindle nuts.  
For brakes we use Wilwood 4 piston SuperLite 1.25" calipers with Wilwood 12.1" x 1.25" rotors and pads.  We also include 8" flex -3AN brake line whips from Crown Performance and weld on the -3AN bulk head tabs.
We top it all off with a 2.5" billet fill/inspection cap up top and a drain plug on the bottom making fluid changes a breeze.
The housings can be ordered in any width WMS from 58" to 78" and are available with 5 x 4.75, 5 x 5, 5 x 5.5 and 6 x 5.5 lug patterns.

If you are planning to 4 link your truck we can completely tab out the housing using the JD Fab 4 link kit that is designed specifically for the Speedway housing.
Mig welded Speedway Engineering full floating Ford 9"